I am not a very experienced scuba diver and with very infrequent dives. It was more than three years ago I did my last scuba dive. Before that it was probably yet another three years. After I took my PADI Open Water license during my army service, when I was 19 years, old I have only dived about 10 times. The dive sites have been quite exotic though: the Azores, Borneo, Bali, Galapagos and Venezuela.
Since I have been diving so infrequently I felt nervous and like I did not remember what to do. For that reason I did a really useful "refresher dive" at the dive center meaning that you repeat the most common maneuvers you need to know, like taking on and off your mask under water. It felt good having that repetition before we went out on the first, out of three, dives.
1. Cave / Coral gardens
We knew our first dive was nearby but was still a bit disappointed when we realized we were going back to the rock formation where had snorkled the other day (and was not too happy about). The scuba dive was, however, much better even if the reef itself was not so exciting. One of the more exciting things we did was to dive through a tunnel shaped rock ("The Cave") which was something new for me.
As a first dive in a long while it was, however, a perfect dive to do. It is a good dive for beginners and divers who, like me, need an easy dive to get started. If you are a little bit more experienced diver you will not be too impressed though.
2. The Conch (wreck dive)
The Conch was an oil tanker fully loaded with oil that sank outside Hikkaduwa in 1903 on a trip from Russia to India. It is a well preserved wreck, very exciting and full of fishes. What I liked specifically with this wreck was how much of it that was left despite being 115 years old! We could swim into parts of the tanker which was something new for me (since I do not have a wreck diver certificate). Another thing I really appreciated with this dive was how three dimensional it was, we were diving up and down, along, inside and outside of the wreck – and everywhere we swam there were tons of cool fishes to watch.
This was probably my best scuba dive ever. The visibility was fantastic (15-20 meters) and the view amazing!
3. Earl of Shaftesbury (wreck dive)
When you thought things could not get any better we did our second dive of the day: the wreck Earl of Shaftesbury. This was a ship loaded with coal that sank in 1893. As a wreck it is quite different than our previous dive since it did not have as many large details remaining. It had even more tropical fish to watch though and my best memory from this dive was a long (several minutes) and close look at a porcupine fish. The visibility here was even better here with an astonishing 20 meters!
Altogether, these two wreck dives are dives I can highly recommend. Even the more experienced divers in the group were very impressed with the two wreck dives of the day.
The dive center Dive for you
I would like to add a recommendation for the dive center Dive for you which we used for these three dives. It was slightly more expensive than other dive centers around but they were very professional and very educational. I was nervous before these dives but felt very safe all the time and the equipment was top notch. It really felt like they were honestly dedicated to give us a good experience instead of  just earning another dollar. One thing they pointed out themselves (that I never would have though about asking) was that they have all the proper insurances which many of the other dive centers in Hikkaduwa was not equally equipped with.
Photos from the day
All the photos below are taken by the dive master Nikki at the dive center Dive for you. Nikki hade just got a new underwater camera which she had not fully mastered yet, thus the rather blurry photos.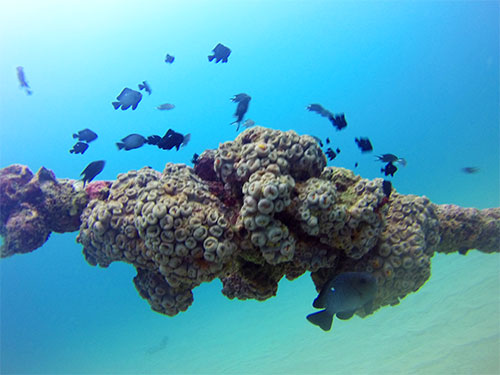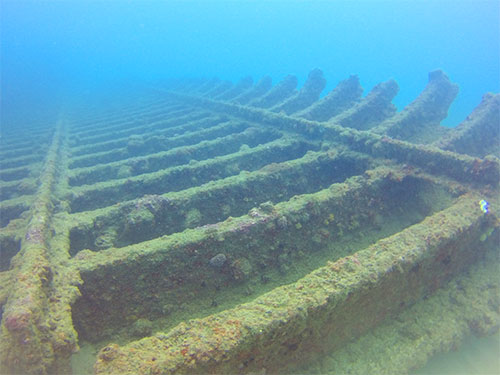 My recommendation: Do not miss out on these two wreck dives but you do not need to visit "The Cave" in my opinion. I really liked the dive center Dive for you and can highly recommend them.